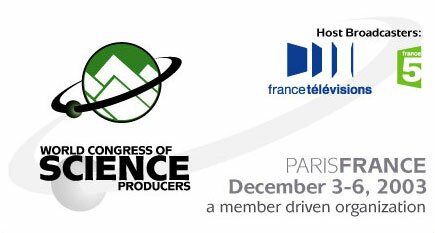 To all registered delegates:
Please note that due to the record number of registrations received for this year's Science Congress, delegate materials may be limited onsite and will be distributed on a first-come, first-serve basis. However, you can still find interview papers for each for of the members of the Science Congress and read them to find more information about their peers.

Registration Has its PIN Privileges
When you register for the Science Congress, you will be assigned a PIN (personal identification number) which gives you access to "members only" privileges on the SCIENCE 2003 website. Here's what your PIN entitles you to:
| | |
| --- | --- |
| > | access to complete contact information of other registered delegates on the Delegates List |
| > | the right to post your Company Profile on the website |
| > | the right to include your Video Tapes of recently completed productions in the Congress library with a description posted on the website |
| > | In addition to all this, your PIN will enable you to access other "members only" privileges as they are developed on the site. |
| | More Info |
Explore Paris - Sign up for a tour. SOLD OUT
The Marais District: Home to French Kings and Aristocrats on Sunday December 7, 2:00 to 5:30. For more information and to sign up, Click Here.
Jean Malaurie to Present Keynote Address
"Science Television at the Crossroads" will be the hot topic of discussion at the 11th annual World Congress of Science Producers. The Congress will kick off with a lively keynote address by the internationally-renowned French ethnologist Jean Malaurie. More Info
Join our Community
Sign up to receive e-mail updates on the upcoming World Congress of
Science Producers